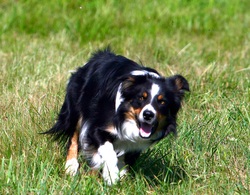 If you are thinking of a new canine addition to your family you can learn about most breeds thru their
parent club
. Whether you want to learn about the history of the German Shepherd or the health issues of the Labrador Retriever, the parent club is a great place to start.
You should also be aware that not all breeds are represented by this list. Many breeds have additional, separate organizations such as the
Border Collies
,
Belgian Malinois
or the
Jack Russell
. So don't be afraid to do your research and ask questions in your quest for a good match for your lifestyle.
If your mind is not set on a specific breed please don't forget the many mixed breed dogs that are available for adoption. Some of the coolest dogs I have met are mutts. They come in a wide variety of sizes and temperaments to fit most every lifestyle. Your
local shelter
is a great place to look.