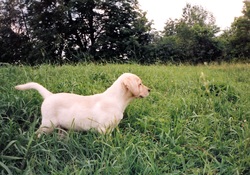 He was a yellow Labrador Retriever and his official name was Champion Grovetons Windstorm CD, JH.
He was a champion in the show ring and enjoyed every minute of his career.... a real showman. He actually won best of breed over a dog that was ranked #2 in the country at the time ... very exciting!
When we decided to put an obedience title on him we practiced for a couple of days on the front lawn and then entered 3 consecutive days in the Springfield shows to earn his CD. By day 3 he was getting a little bit bored of the same routine and still scored in the 180's .
Stormy loved to hunt for pheasant and particularly liked "runners" . He would be happiest chasing down a big pheasant and proudly carry it back to me with his head held high. Labrador Retrievers were bred to be excellent gun dogs and Stormy did this well. He earned his AKC Junior Hunter title easily and enjoyed many days in the field doing what he liked. .
Stormy was a true gentleman and a great companion. He was kind and gentle enough to nuzzle a small child and courageous enough to drive off an unwanted intruder... he was a great dog.