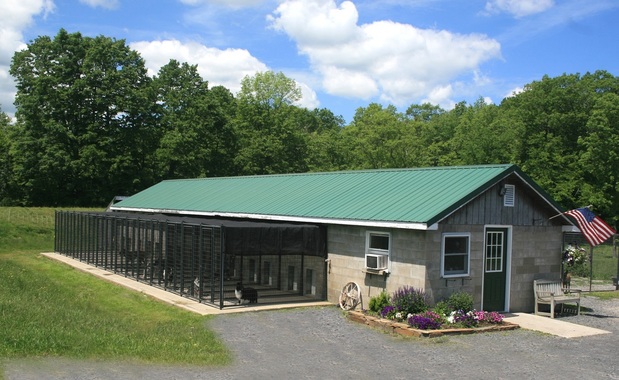 I trust Weston Kennels more than I trust my own family! That is why I wont go anywhere else to board my dog! She has EPI and thus needs special attention during meals; not only has there never been an issue but they also don't charge more for delivering medication! The facility is extremely sanitary and great care is taken on a daily basis to keep all the dogs safe and happy. You just can't beat the knowledge, experience, and heart that Chris and Eileen have.
Danielle H August 3, 20116
I highly recommend Weston Kennels.
Although we had used Weston to board our two Scottish terriers several times and had always been very satisfied with the care our dogs received, this past spring Chris went above and beyond anything I could have expected. Due to a personal emergency, a one week stay for our dogs turned into three months. Weston gave our pets amazing care and when we were able to bring them home, they were healthy, happy and immediately adjusted to being back.
I cannot imagine our pets getting better care anywhere!
Lisa R.
"Camp weston" as our Buddy calls it is a beautiful place for your dog. I never feel badly when we have to leave him behind. I know he's having more fun than we are! Thanks Eileen and Chris!
Deb . F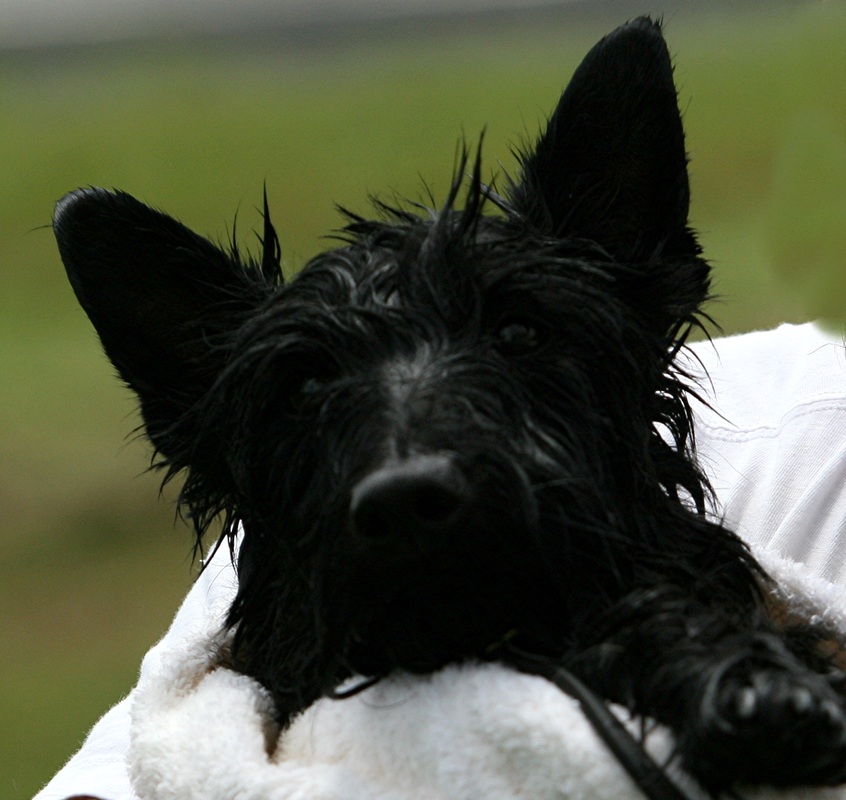 From Erika,
This is the best place to board your dog. The owners seem to really care about what they do. I almost got the impression that my dog didn't want to leave. LOL! I love the fact that my dog can be inside or outside and when he is outside, it is a beautiful country setting where he can just relax. I dread having to leave my dog anywhere else!


From Susan K. Slingerlands, N.Y
"I am so happy that Chris and Eileen have finally decided to use a website because although I have been telling people for years how wonderful Weston Kennels is, hopefully this will reach a wider audience. When we moved to the Capital region in 1998, one of my first concerns was to find a kennel—we had three dogs and a trip to Disney with three small children planned. I asked around and received a number of recommendations from neighbors—after visiting the kennels that people told me were the "best in Bethlehem" I was appalled. Cramped, dirty, smelly—my dogs were small and elderly, used to a pampered life and I needed something besides a place that would warehouse them for a week. My vet then mentioned that she had heard of a new kennel that had just opened—Weston Kennels. I went to visit and was so impressed by both the facility and the owners. Scrupulously clean, soft music playing, roomy with inside and outside runs and best of all, owners who are real "dog people" and able to care for dogs, particularly small dogs, that might have some personality/behavior issues. I booked immediately and many, many times through the last 15 years, with many different dogs. Once I had to leave a dog I thought was on her very last legs to take a long planned and already paid for vacation. I knew Chris and Eileen would give her the very best care, regardless of what happened. Chris patiently answered my numerous phone calls from vacation and, to my surprise, my dog looked better at the end of that week than she went in and lived another year! Through the years I have recommended Weston Kennels to many, many people and I have never heard a complaint—when people hear that the kennel is in Westerlo, it might give them pause. As I always tell them, that half hour ride from Bethlehem is more than worth it to have complete peace of mind that your loved pet will be not only healthy but happy when you return. I could not recommend them more highly."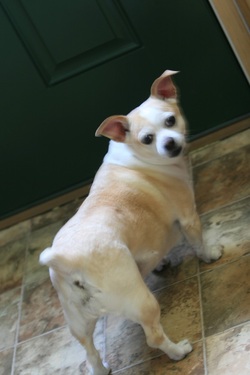 Isabella, Isabella, Isabella... is the song we sing to this little girl, and she loves it ! We took a quick photo of her as she was leaving to go home after a recent visit. She, along with her brother Toby and sister Laura we affectionately call the " The Three Amigos" . We always enjoy having them come and stay with us here at Weston Boarding Kennels.
---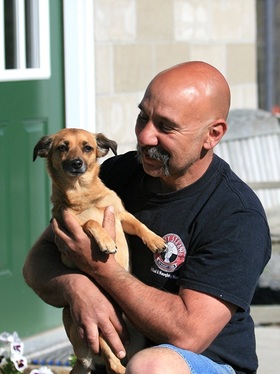 Heidi pictured w/ Chris during a recent visit
My wife and I were referred to Weston Kennels by friends in Delmar who told us they went all the way out to Westerlo to board their dog when they traveled. My first reaction was, "Why would anyone go so far out of town when there are so many other options close by?" We eventually gave them a try, however, and then we understood why the Testos have built such a loyal clientele in rural Albany County. Our dog Heidi hates when we leave her, except when we go to "see Chris." She gets excited when she sees him, there is no resistance to him taking her, and she frequently doesn't give a backward look when we depart because she is already engrossed in being at her home away from home.
There has never been a problem with Heidi picking up something from other dogs, which is a testament to the way they keep their kennel. She is always clean, well nourished, and happy when we come for her. We have great peace of mind when we entrust her to Chris and Eileen at Weston Kennels, confident that she is safe, well treated, and very well cared for. It is a really nice place for animals, run by people who genuinely care about them. We do not hesitate to recommend Weston Kennels to friends looking to board their dogs.
Alec and Ellen
---
5 out of 5 stars! THANK YOU to Chris and Eileen for taking such great care of our two Boxers and Boston Terrier while we were away. They seemed so content and happy when we picked them up that we're not really sure they wanted to come home. Ha!
Weston Kennels is not only impeccably clean, it's also an incredibly safe environment. Chris and Eileen work very hard at running an awesome boarding facility and it shows!
Thanks, again. Caroline Whipple-Becker
========================================================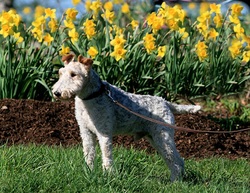 Thor.... enjoying a nature walk
"Thor likes Weston Kennels so much. Once I let go of him before putting him in the car when I arrived at the kennel after Thor stayed a week or more there, and he ran back into the kennel. You know a dog likes staying at Weston Kennels when you see that! Also, Thor always feels so comfortable being dropped off, showing no anxiety or anything. It's like he knows he's at a friend's place."
Roleigh M








=========================================================================================

---
Since our dog does not really handle changes well, I was nervous to leave him with anyone. A family friend recommended Weston Kennels and I couldn't be happier with the experience. The setting is beautiful. The kennels were clean (as is the entire farm area which I think says volumes about the level of care provided). We will definately use this service again! Cori . B
=====================================================================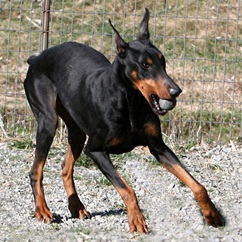 Dogs having fun at Weston Boarding Kennels













=========================================================================================

---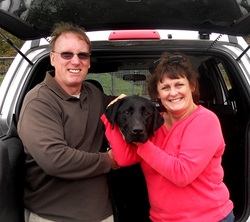 My husband and I highly recommend Weston Boarding Kennels for pet owners searching for a safe, immaculate and caring place to leave their pet. Owner's Chris and Eileen Testo are professional, knowledgeable dog lovers. Our dog adjusted well when he boarded there and enjoyed the time in the play yard as well as the daily walks. We enjoy our vacations now with piece of mind that our Black Labrador, Willie is in good hands. We are grateful to Weston Boarding Kennels for taking such wonderful care of our family member.

Jennifer and Bill


---